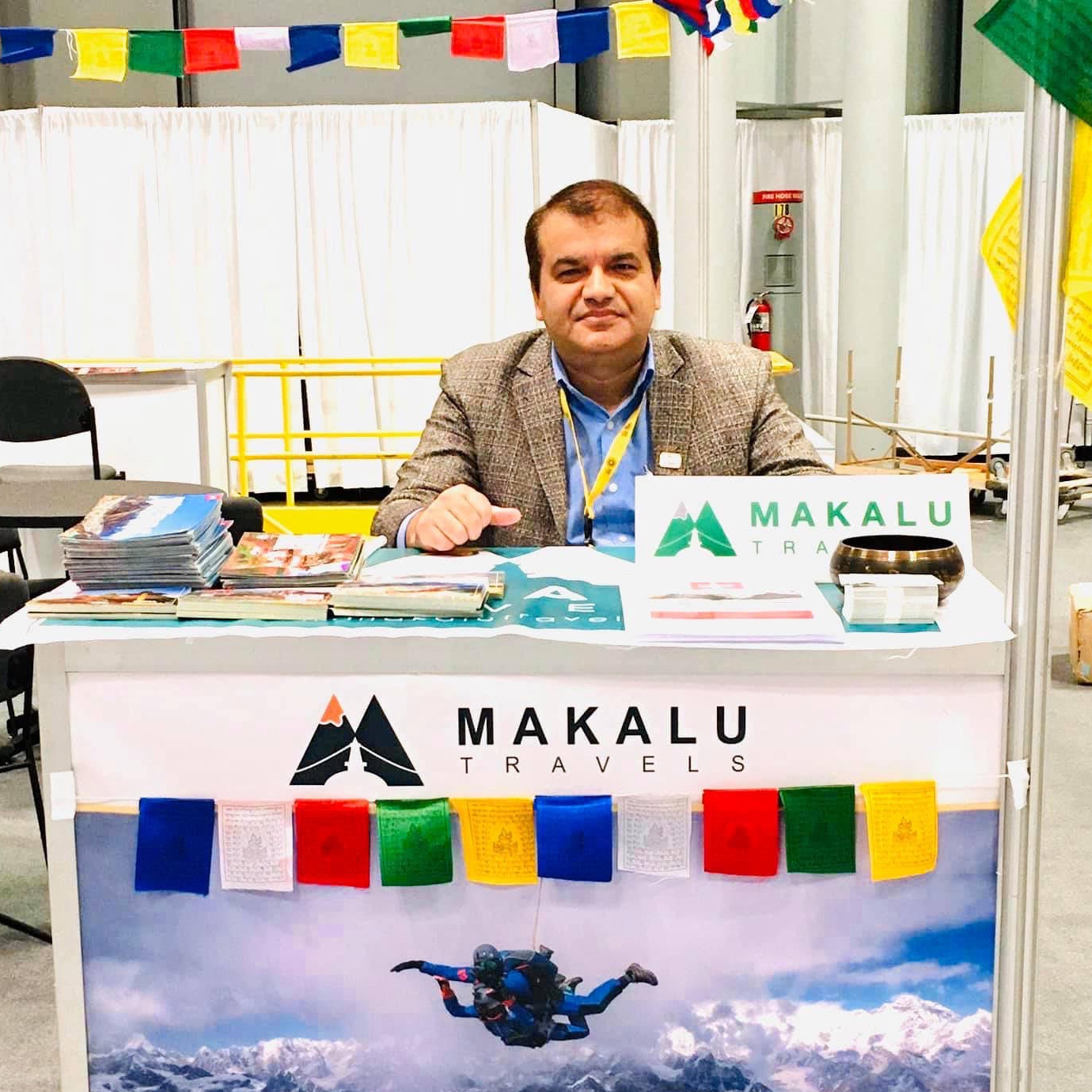 Nepal Tourism Board (NTB) has appointed Mr. Kiran Sharma, a US-based travel entrepreneur as a tourism ambassador for the state of Nevada, USA. NTB works under the Ministry of Tourism, Culture, and Civil Aviation. Mr. Sharma has been successfully advocating for over a decade for the promotion of Nepal's tourism all over the world through his travel agency Makalu Travels based in Las Vegas, USA. His further contribution will promote Nepali tourism in USA and Canada to reach its pinnacle. He will be directly collaborating with the Nepal Tourism Board, Nepali Embassy, Non-Resident Nepali Association, media persons, and other stakeholders to boost the number of tourists travelling from USA & Canada to Nepal.
Mr. Sharma began his tourism entrepreneurship journey in Nepal in 1993 by founding a travel company. He later expanded his network by starting a travel agency with the brand name of Makalu Travels & Tours in the USA in 2011 which has been constantly working to promote Nepal as a premier holiday destination among the travelers in USA and Canada. He has attended numerous travel shows and interaction programs in the USA and Canada that lead to a partnership with some of the biggest organizations. This has provided an amazing opportunity for him to showcase the tourism potential of Nepal even more elaborately.
He has also been involved with social organizations and has a deep-rooted connection with the Lions Club of Kathmandu, Nepal as he was the Chartered Secretary (1999 to 2000), President (2000 to 2004), and Zone chairman (2004 to 2005). Later he tied knots with the Lions Club of North Las Vegas, USA as an advisor from 2010 to 2018.
Mr. Sharma plans to promote Nepal uniquely by launching several promotional programs not only in Nevada but also in other parts of the United States and Canada. Given that tourists from the United States and Canada are not as numerous as those from Europe, Tourism Ambassador Sharma has promised to play a significant role in increasing the number of Americans and Canadians visiting Nepal. Mr. Sharma intends to create an environment best suited for the finest travel experience by exhibiting the diversity, culture, traditions, and natural beauty that defines Nepal in a true manner.
The Advantages of Booking with Makalu Travels
Access to Local Expertize

We take pride in our carefully selected well-trained, experienced tour guides and leaders who have an insider access that is certain to enhance your experience.Their knowledge of meticulous details of all the local places without exaggeration is what will make a world of difference to your travel experience.
Quality Assured

Each of our trips are monitored and regulated by our office in USA because we want to maintain the highest standards of service at all times. At our destination, you will always be hosted with seamless service, the best of hospitality with clean hygienic rooms and tasty and healthy variety of foods.
No Middleman to
Meddle In

With the help of our extended network of travel partners, we directly connect with the local service providers giving you a cost advantage rightaway. We assure you that you will only have to pay for the services you take with no middleman squeezing in your bill.
Guaranteed Departure Dates

If you have signed up and made a payment for our fixed departure packages, the tour departure is automatically guaranteed. When you book our fixed departure trips, you can be assured that the tour will surely operate on the day it is scheduled and will not be cancelled.
Your Safety,
Our priority

It goes without saying that your safety is our topmost priority. The difference in climate, altitudes and geography can cause a certain level of distress for some, which is why our tour guides and leaders are trained and well-equipped for first aid services throughout the trip. Our super tour guides and leaders will ensure your safety at all times.
Transperency and
Honesty

Makalu Travels maintains a strong ethics of business. We therefore assure you there are no hidden charges applied in our packages. Unless you opt for additional activities other than those mentioned in the pre-booked itinerary, even in cases of unforeseen circumstances, the extra costs would be ours to bear.
24/7 Service and
Support

Round the clock support, operations and monitoring. Our services are available round the clock, 7 days a week. If you have any queries regarding the destination, itinerary, safety or duration among others, you can call us or send us an email any time. We are a travel agency that never sleeps.
Secure Online
Payment Options

With Makalu Travels your online payments are secure and simplified with the best transaction & data security methods applied . We offer you flexible and transaction fee free options to pay for your trip. We accept Visa, Mastercard, American Express, Discover and Paypal with no additional transacation fee.